SUITE SUITE CHINATOWN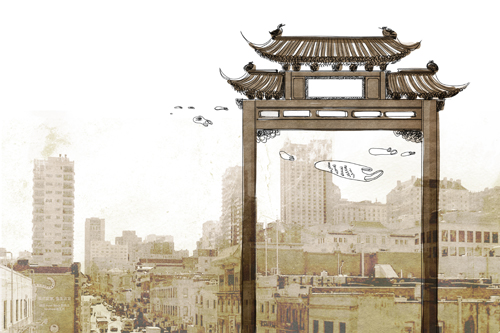 Sunday, March 6th, 17:00, J.A De Sève Concordia
Lesley Loksi Chan, Lillian Chan, Aram Siu Wai Collier, Heather Keung, Serena Lee, Howie Shia, Joyce Wong, Canada, 2010, 35 min
with directors in attendance as part of Double Screening
Synopsis
In Suite Suite Chinatown, seven artistically diverse, award-winning Chinese Canadian filmmakers from the Greater Toronto Area are posed the question, "What is your Chinatown?" Their responses are woven into a multi-genre cinematic vision of Chinatown where anything is possible and the unexpected becomes expected. Suite Suite Chinatown imagines a place where disposable materials take on mythic qualities, where family histories and personal memories unfold in pixelated layers, and where the history of foreign Chinatowns can be turned on and off like a light switch. Despite their different approaches to the theme, these second-generation filmmakers are unified by a nostalgic concern for the past, present and future of each Chinatown incarnation.

Bios

Of Chinese-English-Dutch origins, Aram Siu Wai Collier was born and raised in San Francisco. He studied film and worked on the independently produced PBS documentaries "Refugee" and "Who I Became." He is currently pursuing an MFA in film production at York University while working as a freelance editor.
Heather Keung is a graduate of the Ontario College of Art & Design. Her work has been shown in curated programs worldwide — Montreal, San Francisco, Berlin, Helsinki and Budapest. She is an active contributor to local arts organizations such as Images Festival, Trinity Square Video and Vtape. Keung is currently the Artistic Director at Reel Asian.
Howie Shia was born in Saskatoon and is a founding member of  Toronto-based music, design, animation and film studio PPF House. He has worked for the following organizations NFB, CBC, UN-HABITAT, YMCA and Nike. His short film "Flutter" won the Tokyo International Anime Fair's Open Entries Grand Prix, and was named Best Short Film at Montreal's Fantasia Film Festival.
Joyce Wong is a Toronto-based motion picture director and photographer. Her work is deeply personal, often involving love and nostalgia, with multicultural themes interwoven with comedic narratives. Her films "Souvenirs from Asia" and "Banana Bruises" have been screened at international film festivals. She recently participated in the Berlinale Talent Campus.

Musician's bios
Arthur Yeung is classically trained pianist and composer. He has presented his collaborative performance, featuring electronic music and dance 'Fallin Line', in Toronto and Montreal. He has also been integral to indie bands such as 'We Love and Crown'.

Theo Mathien is a composer who was born and raised in Toronto and is now based in Montreal. He writes both instrumental and electronic music and has recently had his works performed at the National Arts Centre and the National film Board of Canada. Currently, he is finishing series of pieces for the Canada Council for the Arts.