THE DAY HE ARRIVES
DIRECTED BY SANG-SOO HONG, SOUTH KOREA 2011
DRAMA – 79 MIN – HDCAM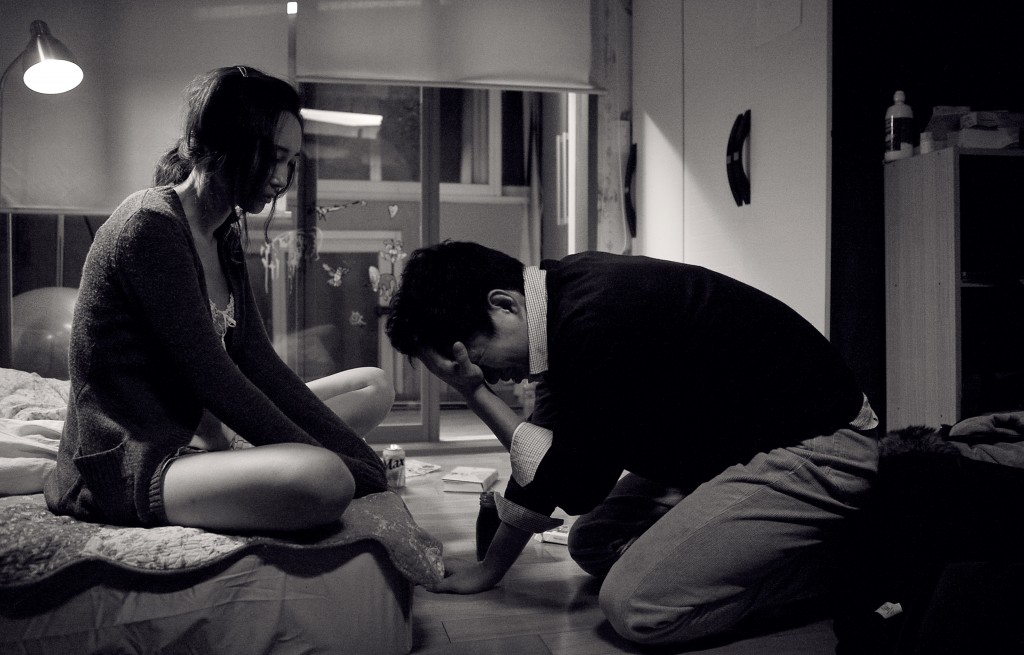 Screened at Un Certain Regard at Cannes in 2011, The Day He Arrives follows Seongjun, a former film director turned professor, as he wanders through the streets of Seoul. Unsure if he as decided to stop making films, or is simply incapable, Seongjun wanders from bar to bar. Over the day–or has it been several days?–that these wanderings last, he comes to face his ex-girlfriend, as well as her look-alike. Time becomes irrational in this story of strange subjectivity, and the audience can be certain of nothing. Surreal and filled with haunting repetitions, this all black-and-white film is the latest by Hong Sang-soo, one of South Korea's most prominent new auteurs.
Présenté lors de Un Certain regard à Cannes en 2011, The Day He Arrives suit Seongjun, un ancien réalisateur devenu professeur, lors de ses déambulations dans les rues de Séoul. Incertain quant à savoir si il a terminé de réaliser des films ou si il en est simplement incapable, Seongjun erre de débit de boisson en débit de boisson. Au cours de la journée – ou est-ce plusieurs jours? – que dure son errance, il vient à rencontrer son ancienne amoureuse, ainsi que son sosie. Le temps devient irrationnel dans ce récit à la subjectivité étrange, et les spectateurs ne peuvent être certain de rien. Surréel et remplis de répétitions obsédantes, ce film noir et blanc et le dernier réalisé par Hong Sang-soo, l'un des plus remarquable jeune réalisateur de Corée du Sud.
HANG SONG-SOO
Hang Song-soo's debut feature film The Day a Pig Fell Into the Well (1996) brought him critical attention across the world, earning awards in Rotterdam, Vancouver, and South Korea. Since that time, Hong has written a directed several feature films and established a reputation for himself as one of the most unique auteurs in South Korea. His film Hahaha (2010) won Un Certain Regard at Cannes, and his latest film, The Day He Arrives, was screened in the same category in 2011.
Le premier long métrage de Hong Song-soo, The Day a Pig Fell into the Well, lui valu d'être remarqué par la critique un peu partout sur la planète, remportant des prix à Rotterdam, Vancouver et en Corée du Sud. Depuis, Hong a écrit et réalisé plusieurs longs métrages et a acquis la réputation d'être l'auteur le plus singulier de Corée du Sud. Son film Hahaha (2010) remporta le prix Un Certain Regard à Cannes et son dernier film, The Day He Arrives, y a été projeté dans la même catégorie.