ROADSIDE ROMEO
DIRECTED BY JUGAL HANSRAJ, INDIA/USA 2008
Animation/Comedy/Family – 93 min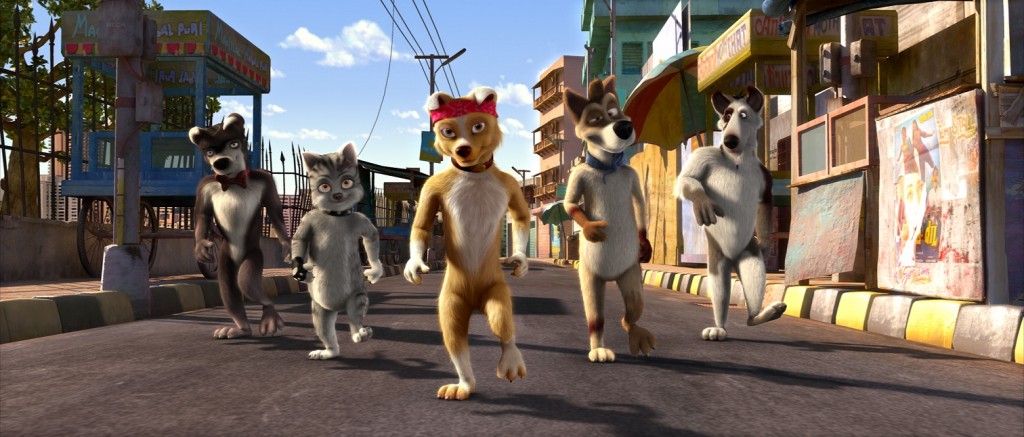 Romeo is now just a stray dog after his rich owner family migrated to London, but he still has the gift of gab and a good sense of style. One day, making friends with four tough-looking but funny fellows, he opens a hairdressing salon with them. His new fortune is threatened by the gang leader Charlie Anna who is the real controller of the local economy. On the other hand, Romeo falls in love with a beautiful dancer Laila, who Charlie has had an unrequited love for. This is a Bollywood-style canine fantasy full of songs, but unlike Bella Notte.
Roméo n'est plus qu'un chien abandonné maintenant que ses riches maîtres migrèrent vers Londres, mais il possède toujours son art du baratin et son goût du style. Un jour, se liant d'amitié avec quatre comparses d'allure dure, quoique rigolos, il ouvre un salon de coiffure avec eux. Son nouveau projet est cependant menacé par le chef de gang Charlie Anna qui à la main mise sur l'économie locale. Dans un même temps, Roméo tombe en amour avec une superbe danseuse, Laila, sur laquelle Charlie a jeté son dévolu. Il s'agit d'un conte fantaisiste dans le style de Bollywood rempli de chansons, mais fort différent du Bella Notte de Disney.
JUGAL HANSRAJ
Jugal Hansraj started his career as a child actor and won popularity both in film and TV. Roadside Romeo (2008) is his debut feature as a director. He is currently filming a live-action feature called Love Impossible.
Hansraj a débuté sa carrière enfant en tant qu'acteur et devint populaire autant au cinéma qu'à la télévision. En 2008, il fit ses débuts à titre de réalisateur avec Roadside Romeo. Il travaille présentement sur un long métrage d'action, Love Impossible.