MUYBRIDGE'S STRINGS
DIRECTED BY KOJI YAMAMURA, JAPAN/CANADA 2011
Short/Animation – 12min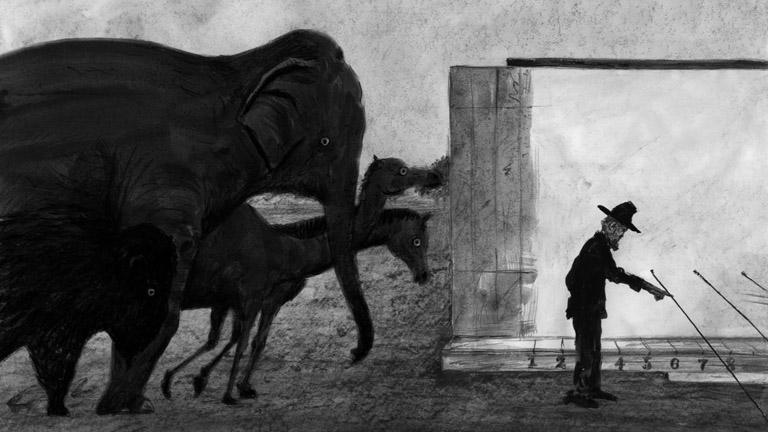 Seeking the issue of time, this short is based on the late 19th-century story of Eadweard Muybridge who is known for his pioneering work which used multiple cameras to capture the motion of a galloping horse, each camera being triggered by a thread as the horse passed. He also invented a device for projecting moving images, while a few years before, having killed his wife's lover. Juxtaposing his story with that of a mother and her child whose infantile figure is no longer found in a startling change day by day, YAMAMURA inserts the paradox of Achilles and the tortoise, longing to seize life's moments.
Cherchant le sens du temps, ce court métrage est basé sur une histoire du 19e siècle, celle du pionnier cinématographique Eadweard Muybridge. Muybridge a utilisé des caméras multiples pour capturer le mouvement d'un cheval galopant, chaque caméra était déclenchée par une corde au passage de l'animal. Il a aussi inventé un appareil pour projeter des images en mouvement, alors que quelques années auparavant, il avait tué l'amant de sa femme. Juxtaposant son histoire avec celui d'une mère et de son enfant dont la figure infantile nous échappe à travers de surprenants changements quotidiens, YAMAMURA introduit le paradoxe d'Achille et de la tortue, cherchant à capturer les moments de la vie.
KOJI YAMAMURA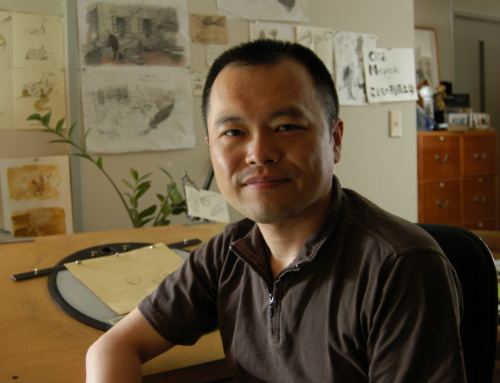 Founding his studio in 1993, YAMAMURA has made a lot of animated shorts. As one of the most well-known films of his, Mt. Head was nominated for an Oscar and awarded prizes at many film festivals around the world. He is also an illustrator.
Ayant fondé son studio en 1993, Yamamura a réalisé plusieurs courts métrages d'animation. Un de ses plus célèbres œuvres, Mt. Head, a été nominé aux Oscars et est récipiendaire de plusieurs prix dans de nombreux festivals de films dans le monde. Il est également un illustrateur.