LOST IN TEL AVIV
DIRECTED BY NETTA AND GUY DIMET, ISRAEL 2008
Animation – 50 min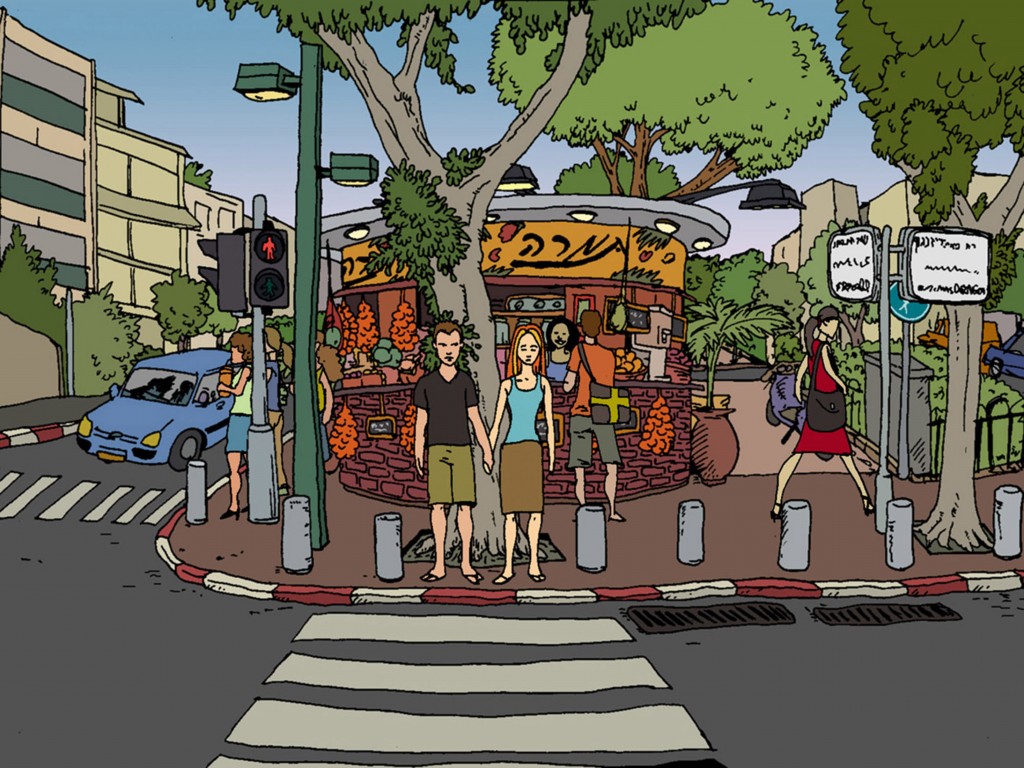 Based in Tel-Aviv, Israel, Netta and Guy DIMET have worked in the promo industry for the cable company for years only to find themselves in despair. They have clung to a dream which is to make an animation show for adults. Hoping to realise such a dream, they sometimes think of migrating to the US. Finally they decide to pursue the production of the show, leaving the industry. This is not a simple decision for them right before the birth of their third child. The Guyster Show is the result of their independent struggle, which we can see in this hand-drawn documentary.
Basé à Tel-Aviv, Israël, Netta et Guy DIMET ont travaillé dans l'industrie de la promotion pour une compagnie de câblodistributeur plusieurs années avant de se retrouver eux-mêmes en difficulté. Ils se sont accrochés à leur rêve, créer un spectacle d'animation pour adultes. Espérant réaliser un tel rêve, ils ont quelques fois pensé émigrer aux États-Unis. Finalement, ils ont décidé de poursuivre la production de leur spectacle, délaissant leur industrie. Le Guister Show est le résultat de leur lutte indépendante que l'on peut remarquer dans ce documentaire entièrement dessiné à la main.
NETTA AND GUY DIMET
Netta and Guy is a wife and husband animation team, who produces animation for adults. They made the animated short JRA which is their first autobiographical film, later to inspire them with the idea of Lost in Tel-Aviv. They live in Tel-Aviv.
Netta et Guy sont mari et femme et forment une équipe d'animation qui produit des films d'animation pour adultes. Ils ont réalisé le court métrage d'animation JRA qui est leur premier film autobiographique, film qui leur inspirera plus tard Lost in Tel-Aviv. Ils vivent à Tel-Aviv.