LEAFIE: A HEN INTO THE WILD
DIRECTED BY SEONG-YUN OH, S KOREA 2011
Animation/Family – 93 min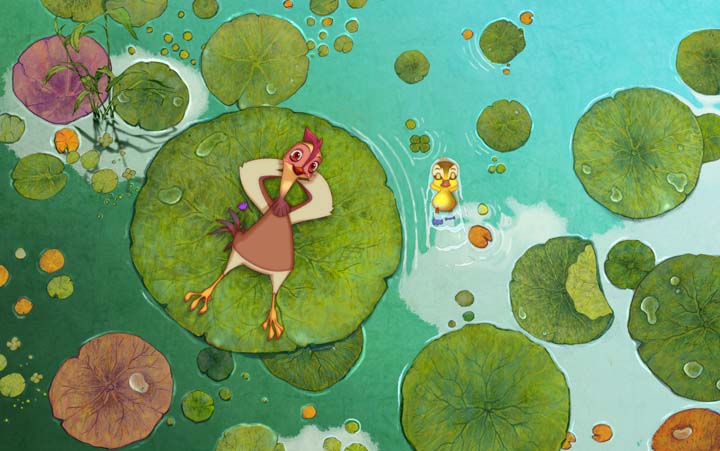 A hen escapes from a chicken farm which does not give a chance to see her babies. Attacked by a weasel in a forest, she is helped by a mallard duck, but later he and his wife are killed by the predator. Finding their egg, she raises the baby as her own child in a kind otter's help. The grown-up duck comes to notice that he is very different to his mom, but hesitates to leave her with his new fellows because he is worried about her being left alone. She might be a different version of the tiger mom.
Une poule s'échappe d'une ferme de poulet où elle ne peut voir ses bébés.  Attaquée par un ferret dans une forêt, elle est aidée par un canard mallard, mais plus tard, lui et sa femme sont tués par un prédateur.  Trouvant leur oeuf, elle élève le bébé comme de son propre enfant à l'aide de la gentillesse d'une outre.  Une fois grand, le canard remarque qu'il est très différent de sa mère, mais hésite à la quitter avec ses nouveaux pairs, parce qu'il s'inquiète qu'elle ne soit laissé seule.  Elle est peut être une version différente de la mère tigre.
SEONG-YUN OH
Since 1989, OH has been involved with directing, creating, and producing in many animation projects. Also he has directed the company Odoltogi which produced his first feature Leafie, A Hen into the Wild with Myung Film.
Depuis 1989, OH a été impliqué dans la direction, la création et la production de plusieurs projets d'animation. Il a également dirigé ;a compagnie Odoltogi qui a produit son premier long métrage, A hen into the Wild en collaboration avec Myung Film.