PIERCING I
DIRECTED BY LIU JIAN, CHINA 2010
Animation/Drama – 103 min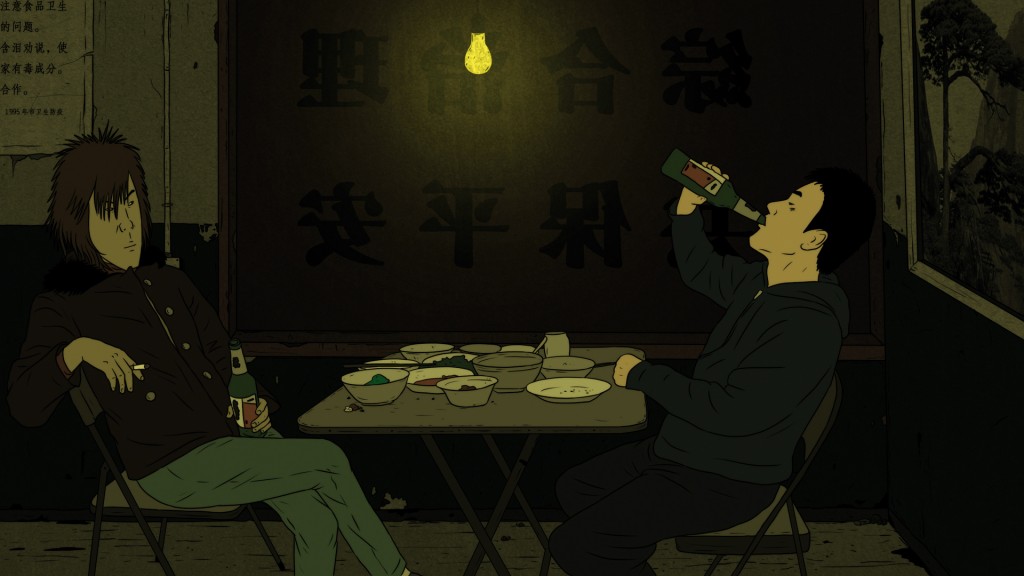 Taken for a thief, Zhang Xiaojun is beaten in a security office of a supermarket. One week later, as told by a friend, he visits Mr. Yu, the manager of the supermarket in order to demand compensation for the assault, but it does not work. Even the shoes factory in which he got a job after graduating a university has recently been closed. Now deciding to be a farmer, he is waiting for the train for his home town, but the new mayorof the city arrests him. This film is permeated with the director's insight in suspense and black humour.
Pris pour un voleur, Zhang Xiaojun est battu dans le bureau de la sécurité d'un supermarché.  Une semaine plus tard, tel que raconté par un ami, il visite M. Yu, le gérant du supermarché pour demander une compensation pour l'assaut, mais cela ne fonctionne pas.  Même la fabrique de chaussures où il a eu son emploi après avoir obtenu son diplôme universitaire est fermée.  Maintenant, il décide de devenir un fermier, il attend un train vers sa ville natale, mais le nouveau maire de la ville l'arrête. Le film est pénétré du sens du réalisateur pour le suspense et l'humour noir.
LIU JIAN
Based in Nanjing, China, LIU began to make animations in 1995, and established his own Le-Joy Animation Studio in 2007. He plans to complete a trilogy of his first animated feature Piercing I and two others in process.
Résidant à Nanjinj, Chine, Liu débuta dans l'animation en 1995 et a établi son propre studio d'animation en 2007. Il s'affaire à compléter une trilogie avec ses premiers longs métrages d'animation, Piercing I  et deux autres œuvres en cours.