Montreal discovers new film crowd thanks to the AmérAsia Film Festival
The 2nd edition of the AmérAsia Film Festival closed with the Academy-award winning Canadian film, WATER by Deepa Mehta (Métropole Films Distribution) on Sunday March 13th 2011. AmérAsia took place during the first two weekends of March this year, and presented a combination of 24 Asian-inspired films and several special events, including a panel discussion on inter-ethnic marriages, film industry seminars, and 'Bollywood Night'. The majority of the attendees and participants were from Asian communities or have a special interest in Asian culture. The organizers of the festival were happy to have welcomed not only familiar faces to Montreal's Asian-cinema scene, but also first-time festival goers ranging from ages 8 to over 70 years old. The 2nd edition of AmérAsia Film festival certainly found a unique audience in all age groups comprised of those who are interested in exploring a culturally-different film niche with their families.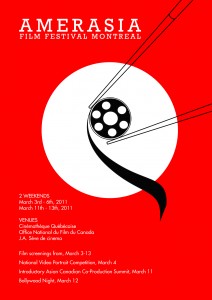 Despite its small size, limited budget and human resources the AmérAsia Film Festival has created a new platform for Asian film in Montreal. AmerAsia successfully welcomed over 40 special guests, including government representatives from China, Hong Kong, Japan and Korea; 10 renowned guests from outside Québec, including Jeff Chiba Stearns (One Big Hapa Family, British Colombia), Jason Karman (I'm In The Mood For Love, Vancouver), Gerry Balasta (The Mountain Thief, Philiippines-New York); and 4 directors including Aram Siu Wai Collier, Heather Keung, Joyce Wong, Howie Shia (Suite, Suite Chinatown, Ontario) and Sonia Sakamoto-Jog (Executive Director of Reel Asian Film Festival in Toronto).
Asian-inspired films and videos by new and emerging artists participated in, "The National Video Portrait Competition," where 3 visionaries won awards. The Videographe Award (distribution services) went to L'hybridée by Julie Corbeil. The GIV (Groupe Intervention Video) award, a $1,000 value of post-production services, went to Sign off by Diyan Achjadi. The Ciné-Asie Award, a 3-night stay at the Hotel Marriott Downtown, went to Xi Feng for Escape.
Further information on the Seminars:
The message from Kevin Chang (Korea) regarding Co-production Summit Link:
The message from Yung Chang (director of Up The Yangtze, China) discussing the 'China Heavyweight' co-production project:
The AmérAsia Film Festival gratefully acknowledges all the generous sponsors, collaborators and partners: CIC (Citizenship and Immigration of Canada), the City of Montreal, Korean Film Council, Korean Culture and Information Service, Cinémathèque Québécoise, the Holiday Inn SELECT, Residence Inn – Marriott Montreal Downtown, Groupe Intervention Video, Vidéographe, IXION Communications, Kam Fung, Sushiman and Atti Restaurant, NFB CinéRobothèque, EyesteelFilm, Telefilm Canada, SODEC, National Film Board of Canada, Japanese Consulate in Montreal, Japanese Canadian Culture Centre of Montreal, Coco Montreal, Hanca Times, Korean Newsweek, Chinese Press, Luby Newspaper, and all our other supporters.
Jason Karman, the director of I'm In The Mood For Love (Vancouver) who attended AmérAsia said that the industry seminars "Introductory Canadian-Asian Co-production Summit" and "Negotiating Legalities and Finances in Filmmaking" were particularly interesting and that it was of paramount importance to attend them as an emerging filmmaker. He added that prior to these seminars he found it difficult to locate accurate information on these topics.
Marielle Poupelin, 
the Deputy Director of Co-productions Certification at Telefilm Canada, found the video message discussing the current co-production movements in the Asian-film industry to be highly significant. AmérAsia was asked to send the video (presented by Kevin Chang; Producer and Board Member at Association Film Commissioners International), to Telefilm's further studies on co-production with Asian countries. Mrs. Poupelin commented that the video contained beneficial information for her colleagues at Telefilm Canada.
Julie Bernier, an Advisor of the Multicultural Program at CIC (Citizenship and Immigration of Canada), attended the Opening Gala, expressed her reaction to the festival: "It is my sincere opinion that this is an impressive festival and it is surprisingly well-organized. We are very happy that this is happening."

Joanna Lai, a student at McGill University said: "As a supporter of AmérAsia Film Festival and a fan of asian cinema I think this project you have started is not only important and interesting, but also very inspirational. I think everybody can acknowledge that AmérAsia Festival and all that CinéAsie has committed to are huge stepping stones for our community and our interests, that's why I was proud to volunteer with them. Sure, it is still a new festival and the intimacy is half the charm, but we are all learning how to make it even better, while keeping this charm. With all the experience that the organizers have gained in producing this event, I am sure this event will only become stronger in the years to com."