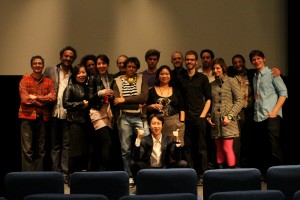 Only the words thank you can express my sentiments in this overwhelming moment. We did it! Congratulations to the team and all our participants. The first edition of the AmérAsia Film Festival was launched in 1999, and the second edition in 2011. The task of putting on the festival for a second consequent year would not have been realized without the generous support of the public, artists, media, and film and arts community who sustained us in our mission to celebrate Asian art house films and culture. We were also blessed with the support of Asian film industries, who trusted in AmerAsia and sent us a wonderful collection of films to screen. Many thanks to Wild Bunch, Finecut, Metropole, 108 Media, Eyesteel Film, Filmswelike and all our other contacts.
Thank you to our Master of Ceremonies Sora Olah, all our sponsors, the artists, jury members, speakers, volunteers, and the whole AmérAsia team. We did it! We made it! Montreal's AmerAsia Film Festival that will be growing one of the best Asian-Canadian film festivals in the world from this year on! - Mi Jeong Lee, Festival Director
AmérAsia Weekend Highlights:
- ARTISTS TALK ON ANIMATION -
Moderated by Joon Yang Kim Speakers included Jonathan Ng, Alison Loader and Masoud Raouf
With a panel of experienced Animators Joon Yang Kim, Alison Loader, Masoud Raouf, and Jonathon Ng, the Spotlight on Animation seminar was a very informative, and very interesting, question period. Discussing methods to display emotion in their characters, and debating the importance of a character's eyes, the panel was unanimous in its sentiment that animation is one of the most difficult methods of expression; as Mr. Raouf detailed, if you press pause at any time during an animated piece, you have a work of art.
- KPOP DANCE & FASHION SHOW –
- Hosted by Youtube star Shimmycocopuffsss and Sora Olah - Runway collection donated by Samuel Dong with beauty art direction by Fang Image Studio – Performances from Inho Kim & the Comrades – The Funky Kids –  Irratik  - KPOP Dance Battle organized by Chayma from the Kpop Fan Cafe   Montreal – Club Night with Mister Vee
There was fantastic energy in the room from the electrifying display of fashion, dance and film; a crowd mesmerized by Samuel Dong's eyecatching runway pieces mingled with fans of Shimmycocopuffsss, as both feasted on the buffet of performances that kept people hungry for more, well into the night. A lot of new raw talent was discovered, a real treat!
- FINANCING METHODS SEMINAR AND GRANT WRITING WORKSHOP BY CANADA COUNCIL FOR THE ARTS -
Speakers included: Janet Lumb; Artistic Director from Acces Asie, Shuni Tsou from the CCA Equity Office and Paul Thinel, CCA Media Arts Section Program Officer. Aim: Workshop targeted towards emerging media artists, 'how to write a successful grant application for the media arts programme', funding tips and advice
"A positive experience!" – Workshop participant

- SMARTPHONE FILM CHALLENGE WINNERS -

Cine Asie Award: $1000 Cash
Winner: Manuel Roumer with 'Tom's Land'

Videographe Award: international distribution and $1500 towards post production services for next project
Winner: Radu Juster with 'Monkey on a Spoon'
Premium Sound Award: $1000 towards sound post production for next project
Winner: Felipe Correa Gallardo with 'Amutuan'
Special Mention: David Eng with 'Smartphone'  and Vitalyi Bulychev with 'Ernest and Emma'
All videos can be viewed here: http://www.youtube.com/user/cineasiegroup
"I didn't realize how great a film could be made with Smartphone technology. I was expecting low-quality films, but not only was the technology great, so were the stories that were told through these short films. Very impressive." – Stefania, Audience Member
- NATIONAL VIDEO PORTRAIT WINNERS –
Videographe Award: international distribution and $1500 towards post production services for next project
Winner: Vincent Toi
Premium Sound Award: $1000 towards sound post production for next project
Winner: Paul Tom
Hotel Zero 1 Award: 1 Night All-Inclusive Hotel Stay
Winner: Pascale Huynh
Special Mention: Bonnie Chau with 'Under one Roof'